Condition Monitoring solutions in Q3 2019
UpTimeWorks continues to develop innovative predictive maintenance solutions proven to deliver uptime at an affordable cost. With Q4 2019 in full swing, now is an excellent time to review the past three months and some of what UpTimeWorks has been working on. In this interview, Martin Blenkers (General Manager, UpTimeWorks) talks about the company's recent activities, and he highlights what is planned for the final months of 2019. As usual, the UpTimeWorks team welcomes your feedback and questions.
Q: What were some of UpTimeWorks's major achievements in the third quarter?
 
Martin: We have had successful conversations with a worldwide chemical company. It started when we got an email from them looking for a whole system that is implemented with a LoRa connection. They are using gateway LoRa and were looking to migrate to a fully LoRa solution. Things to be continued.
 
We will also expand our activities at Rijkswaterstaat, which is part of the Dutch Ministry of Infrastructure and Water Management and is responsible for the design, construction, management and maintenance of the main infrastructure facilities in the Netherlands. We replaced sensors and a uBridge on a ship because they needed a stronger use of glue due to the environment and we will place temperature sensors in the future. 
 
Besides this, we also continued installations at Tata Steel. We already had placed sensors and uBridges at two bridles, and just recently, we placed sensors at another bridle on the Koudband 22. In just two days, this bridle was successfully provided by sensors and a uBridge. We expect to work on more bridles in the future as well on different locations at Tata Steel.
 
We also expanded our UpTimeWorks team with a implementation technician and with an artificial intelligence consultant. We are expanding our team since we see our activities are also expanding.
 
Q: In mid-October, you recorded a webinar titled "The Future of Predictive Maintenance Solutions." What can viewers expect to learn?
 
Martin: UpTimeWorks develops and delivers next-generation predictive maintenance solutions that enable manufacturers to cost-effectively achieve production plant uptime. Over the past few months, we've spent a lot of time creating and sharing predictive maintenance-related educational material about our new PdM products and services. We've published a position paper, cases studies, videos, and blog posts about traditional vs the new PdM, lubrication management, vibration analysis, smart sensor technology, and more. In the video "The Future of Predictive Maintenance Solutions," I dive deeper into many of these subjects and I present our solutions in some detail. The video is now available. 
Q: Do you have any product news or updates?
 
Martin: First of all, uMotes are ready for dispatch. It took a long time to develop these top-level, field-ready devices. We consider this to be a major achievement.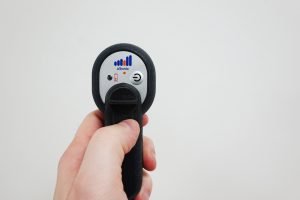 We also developed two prototypes of the uBlock and the uSonic. We have two uBlocks, one for temperature only and one for 3-axis vibration and temperature, which can measure temperatures of 0 to 90° and vibration of 2 Hz to 8 kHz (x and y axis) ±16 g and 2 Hz to 1 kHz (z axis). The accuracy is ENOB 13 bits (78 dB), and the measurements are Iso Vel, gRMS, impact count and g's and velocity. 
The uSonic is a single-channel, 24-bit, fully integrated Bluetooth sensor. The sensor is a single-axis, 30 mV/g piezo compression module, with a range of 2 Hz to 10 kHz, 24 bit (120 dB), ±80 g. With 15k samples per second, it can measure ultrasound at a high level. We are content with those two prototypes, and we are working to complete them. 
Q: Any news about recent events?
 
Martin: We were at the CBM CONNECT Conference in Manchester, UK, from October 7 to 9, where we talked with a lot of people and made contacts for further business. It was interesting for us to participate in such a big conference, and we are planning to attend more industry conferences next year.
 
Earlier, I mentioned that we recorded and distributed our first webinar, "The Future of Predictive Maintenance Solutions," which covered UpTimeWorks's vision, products, and services. It was an informative experience, and we are planning to do more webinars in the future.
 
I'm also pleased to announce that I was recently interviewed by James Kovacevic for "Rooted in Reliability" (RIR), which is a weekly reliability and maintenance-related podcast that covers common industry challenges and plant performance. I spoke with James about a wide variety of PdM-related topics, including various technologies, FMECA, Asset Hierarchy and Criticality, traditional and new PdM, PdM implementation, and more. We will notify everyone via our website and email when the podcast published. You'll be able to listen to the recording on the RIR website, as well as via iTunes and Stitcher.
 
Martin: What is in store for the rest of 2019 and the start of 2020?
 
Martin: In November, I am scheduled to appear on another well-known podcast to speak about predictive maintenance solutions for the pump and rotating equipment industry. We will post additional details about that recording in the next few weeks. And we are already planning new webinars.
 
As for our products, we would like to take steps with uBlock and the uSonic in the field. 2020 will be a big year as we look to expand our activities and find partnerships for long-term collaborations. We have state-of-the-art products, software, and solutions that need to be marketed worldwide.